R&D Manager, Oliver, got just the feedback he needed from his daughter. By August of this year the R&D innovation teams were excited about their new creation – a plant-based tuna alternative. But it was when the vegetarian teen polished off an entire portion that he felt truly confident in their product: "I said 'yes! we've got it!'"
In November 2019, work began on a project that would see Nestlé enter the plant-based seafood market for the first time. Just nine months later, the Sensational VUNA was ready to hit supermarket shelves and gauge consumer reaction. It was a collaborative team effort throughout a truly fascinating journey; one that saw exciting scientific discovery translated into real-life benefit for consumers and the planet.
The challenge
Ninety percent of global fish stocks are now depleted or close to depletion, however the demand for seafood continues to rise. Sustainably produced plant-based seafood alternatives can reduce overfishing and protect biodiversity – so plant-based seafood was a logical next step for Nestlé.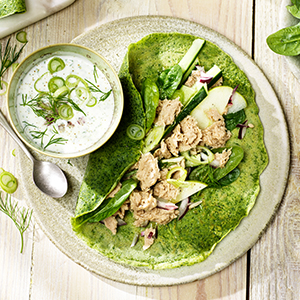 The Sensational VUNA's life began as a scientific breakthrough at Nestlé Research in Lausanne, Switzerland. "We were working with proprietary technologies and leveraging our expertise in protein science," says Célie, Scientist at Nestlé's fundamental research entity. The team started by selecting highly nutritious and environmentally friendly pea and wheat protein sources and texturized them into fibrous structures very close to tuna muscle fibers.
"We used a range of unique technologies which are similar to what we use for our plant-based meat alternatives," says Célie. "When we realized that the technology could deliver tuna-like texture and appearance there was a lot of excitement."
This was an opportunity for the team to make a mark on the vegan market; to offer a store cupboard staple that many may have been missing for years. But to do it, look and texture would not be enough; it had to taste like tuna. "We wanted to deliver an uncompromised experience," explains Célie.
All in good taste and the race against the clock
"You need several components to recreate real tuna flavor," Oliver explains. "First of all, something that provides a neutral base; then some sea freshness – like when you're in a harbor; next, a top note that's more focused on smell; and finally, the base note, which is what you have in your mouth."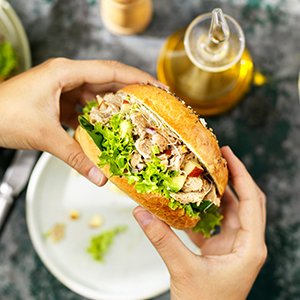 What nobody could have planned for was the way in which the whole world would change in 2020. "We were in the middle of the COVID-19 pandemic," says Oliver. "We couldn't organize large tastings or ask hundreds of consumers for their opinions." So a massive team effort saw exciting innovation in ways of working. They used virtual tastings and digital communication tools to connect as much as they could with the consumer.
Developing a product at kitchen scale is one thing, but the tuna needed to be scaled up so that it could be sold in a retail environment and reach the kitchens of consumers around the world. To make this happen, the team worked with the Nestlé Product Technology Center for food in Singen, Germany, which has been instrumental in the development of plant-based meat alternatives to burgers, mince, meatballs, sausages, cold cuts, chicken nuggets, and chicken filets. The center helped to optimize the production, taking into account food safety, shelf stability and packaging to meet customer requirements. To increase speed-to-market, the first commercial batches were also produced in the Nestlé R&D facilities.
The ingredients
Not happy with simply creating a ground-breaking product in record time, the team also set themselves the challenge of doing it with only a few natural ingredients. The final result contains just six ingredients: water, pea protein, wheat protein, rapeseed oil, salt, and natural flavorings.
The team is already considering next steps and experimenting with other exciting plant-based alternatives to seafood such as fish and shellfish.
"We've been able to translate scientific discovery into a real product very rapidly in the midst of a pandemic," says Célie. "Thanks to the commitment, engagement and agility of the team we are paving the way and proving that research can have a short-term impact."
The exciting innovation helps to overcome massive global sustainability and health issues. "We do science for a purpose and this is to enhance the quality of life of individuals and families," says Célie.
"We are super excited to find out if the consumer likes our product." says Oliver. But if our families are our greatest critics then Oliver and the whole team know that they have absolutely nothing to worry about.