Johann wasn't always as open about who he was – a member of the LGBT+ community – as he is today.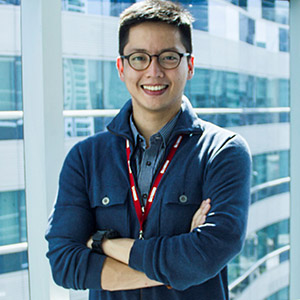 "I was working in our factories back then, and I spent a lot of energy trying to keep up appearances as 'one of the guys'," said Johann Ang, a Filipino national who works today as a Diversity & Inclusion Senior Project Manager at Nestlé, based in Switzerland.
Confiding in a trusted colleague marked the start of his 'coming out' journey. A promotion to team leader further strengthened his resolve to live openly – and to bring his whole self to work. "Not being able to share such a huge part of who I am was getting in the way of my management," he says.
Things have come a long way too, for Emma Scott, Business Solutions Team Lead, Nestlé UK & Ireland. "In my first job, I didn't know whether it was ok to come out, or even if I was comfortable coming out myself," she says. Then she found the courage to reveal her LGBT+ identity to her colleagues shortly after joining Nestlé.
LGBT+ network
She took it a step further: Emma went on to create the first LGBT+ network for Nestlé UK and Ireland. "In 2015, it was just myself and another person presenting our business case to the executive board to create a network," she says. "We gained their sponsorship, secured the budget, and were given the freedom to work out what our employees wanted to see from the network."
Emma thought it was important for the LGBT+ community to be themselves at work. Having to cover up who you are is not only exhausting, it also holds you back professionally. "In our work, it's important to build rapport. If you're not bringing your whole self to work, you're kind of limiting yourself."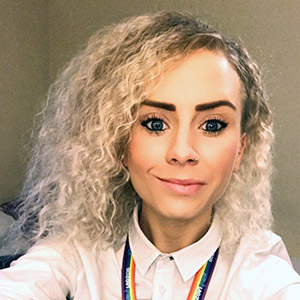 Allies key to success
Since its founding, the network has provided support to LGBT+ colleagues and created a space for conversations on LGBT+ topics. Today, the network counts more than 220 LGBT+ employees and allies. It has recently been nominated among the top networks by the British LGBT+ Awards.
Emma attributes a big part of the success of the network to 'allies' – supporters of our community who do not identify as LGBT+.
"Having allies across our business who are equipped with the knowledge to discuss issues and challenge inappropriate behavior and assumptions leads the way for other minorities, too," Emma says.
Committed to LGBT+ equality
In many other markets across the globe where Nestlé operates, similar LGBT+ networks have sprung up. Nestlé is committed to LGBT+ inclusion, providing an open and inclusive working environment where people feel comfortable and confident enough to be themselves at work.
Our corporate values rooted in respect, our public pledge to support the UN's LGBTI Standards of Conduct, and the group-wide roll-out of a compulsory training program on unconscious bias for all Nestlé employees have, each in their own way, contributed to moving the needle. The launch of our new Nestlé Global Parental Support Policy, offering the same benefits to same-sex and different-sex couples, is also empowering members of the LGBT+ community.
We're also partnering with LGBT+ civil society groups such as l'Autre Cercle In France, PARKS in Italy, or Pride Connection in Mexico, Colombo and Panama – to name just but a few. Through these partnership, we develop a detailed understanding of the issues faced by LGBT+ communities on the ground, which, in turn, helps us to develop programs that are relevant to the local context.
Removing courage from the equation
Johann says being able to come out was akin to being able to breathe freely again. "So much has changed, I'm now engaged to my partner and we are starting to build a family – something I never even imagined would be possible."
Johann is also quick to note the irony of the situation. "The very same organization where I wasn't sure if I could be fully myself at the beginning is now recognizing that aspect of my life and is even supporting me and my family through it."
And he's got a message. "People often told me how courageous they thought I was for coming out, but I think the most important message here is this: How can we support our colleagues so they don't need courage, because we are able to make them feel safe?"
Johann's work today is focused on advancing Diversity & Inclusion at Nestlé, to help everyone feel safe to be their whole selves at work.